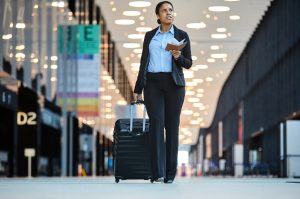 Once COVID-related travel restrictions are lifted, thousands of visitors and business people will be traveling to the United States and Canada each day. Those looking for expedited processing when crossing these borders may be interested in pre-screening programs such as NEXUS. The CBSA estimates that 1.4 million of the 1.7 million NEXUS cardholders are Canadian citizens or permanent residents. Unfortunately, concerns started to arise about the hundreds of NEXUS cards belonging to Canadians or Americans that have been revoked for minor violations. Recently, Canadian officials announced their plan to tweak the rules so travelers in the situation have options to appeal.
What Is NEXUS?
The NEXUS program is for frequent travelers who are looking for a more seamless process when entering the United States or Canada through prior pre-screening. Members of the program will use NEXUS designated lanes found at the northern border ports of entry. By paying one fee, NEXUS members have crossing privileges at air, land, and marine ports of entry that support the program. US Customs and Border Protection (CBP) and the Canada Border Services Agency (CBSA) are cooperating in this joint venture to simplify border crossings for members while enhancing security.
Requirements –
The NEXUS program was created for US citizens, US permanent residents, Canadian citizens, Canadian permanent residents, and Mexican nationals who are members of Mexico's trusted traveler program (Viajero Confiable) in the US/Canada. If you are under the age of 18, you must have your parent or legal guardian's consent to participate in the program.
A few reasons why you may be ineligible for the NEXUS program include:
Provide false or incomplete information on the application
Have been convicted of any criminal offense or have pending criminal charges or outstanding warrants (including DUI)
Have been found in violation of any customs, immigration, or agriculture regulations or laws in any country
Are the subject of an ongoing investigation by any federal, state, or local law enforcement agency
Are inadmissible to the US under immigration regulation, including applicants with approved waivers of inadmissibility or parole documentation
Cannot satisfy CBP or Canada Border Services Agency of your low-risk status
How to Apply –
To apply for membership in the NEXUS program:
Use the Trusted Travelers Programs (TTP) website to submit an application and go through a registration process
Meet the programs eligibility requirements
Be admissible in Canada and the United States
Pass risk assessments by both countries
New Rules For NEXUS Card Violations
"Canadian Officials Now Unable to Revoke NEXUS Cards Due to Minor Infractions"
After multiple occasions a NEXUS member's card has been revoked for very small violations, CBSA officials had all of the power and authority to cancel someone's NEXUS card until now. Now, travelers have the chance to appeal to maintain their NEXUS card privileges. Even those who have had their cards revoked in the past can appeal. One would just need to attach a copy of the federal court decision or explain what happened the first time and show it is isolated, honest, and not part of a pattern of conduct.
How To Appeal –
If your NEXUS membership has been canceled, your request for review must be submitted to the Canada Border Services Agency's Recourse Directorate within 90 days from the date of the cancellation. To appeal your NEXUS card cancellation, you may either:
Submit an E-Appeal OR
Submit your request in writing to:
Recourse Directorate
Canada Border Services Agency
333 North River Road, Tower A, 11th Floor
Ottawa, ON  K1A 0L8
Facsimile: 343-291-7239
NEXUS Program Benefits
If you are approved to participate in NEXUS, you will receive a radio frequency identification card to use when entering the United States and/or Canada at designated NEXUS air, land, and marine ports of entry. Members in the NEXUS program get to enjoy a few benefits such as:
using dedicated processing lanes at land border crossings
using NEXUS kiosks when entering Canada
using Global Entry kiosk when entering the United States
calling a marine telephone reporting center to report your arrival in the United States and Canada
Has Your NEXUS Card Been Revoked? Hire an Immigration Lawyer!
If so, Contact VisaPlace today. All our cases are handled by competent and experienced immigration professionals who are affiliated with VisaPlace. These professionals consist of lawyers, licensed paralegals, and consultants who work for VisaPlace Legal, an award-winning immigration firm that adheres to the highest standards of client service.
Ready for the next step? Book your 1 on 1 consultation now or call us at 1-888-317-5770.
Have a Question related to your Immigration Needs?
Fill out the FREE Immigration Assessment form and get a response within 24 hours to see if you're eligible.
The assessment form should take approximately 5-7 minutes to complete. We will get back to you within one business day to let you know if we are able to help.